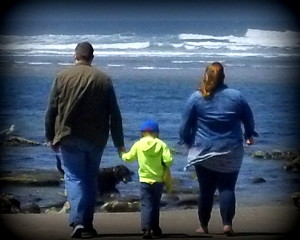 Matt has made it home. Jillian is doing better and London is more fun and engaged than ever.
Matt types slowly. …but he types.
Small bathrooms are tricky for a big guy. …but he can go alone.
He can dress himself. …but his fashion sense is still lacking.
Thank you
Thank you. Thank you all for the support you guys generated. 100's of hours of service, 10's of thousands of dollars. This family was loved and cared for and carried through a terrible gap.
Our next goal is to help Matt get paying work and help them with long-term housing.
With London's autism the financial and emotional load of Matt not being there for month after month is more than most of us can understand. But not more than we could help with. Donations of time, child care, and money have all helped the McCabe family through this last year.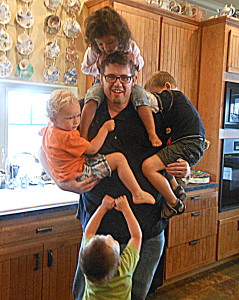 Matt was in the hospital for nearly -four- months of 'Will-he-be-alive-next-week?' care. A rehabilitation clinic after that.  The financial strain on his family was past nearly anyone's breaking point and programs to help families in need don't do much for 'We made money last month, but now our breadwinner is on life support.'
Now other financial help has begun. Their living expenses have been adjusted enough that they're alright. London is in a school system with people and tools that seem to be really a good fit for him…but without the help they received (and still do and will), the outcome would have been different.
Transitional and one-time needs have always been our focus. Plenty of people and ideas just need short-term needs covered for them to do long-term good. We'll continue to work with the McCabes and help them as we can. The experience thus far has left us humbled, and committed, to helping more families with challenges than ever before. Matt and Jillian worked hard for their family and still took many hours and dollars from family, friends, and generous donors like you, to be the safety net they needed.
Thank you for your help. There's more work to do and we hope you'll join us in doing it. It's hard, tiring, and very much worth it.
If you want to read more about Matt's day-to-day, check out the blog he's writing now over at: HelpMatt.org/blog …it's good stuff.
Prefer checks? Please make it to:
Adullam Agape
PO Box 1067, White Salmon, WA, 98672
Questions? Just call. 541-516-6030
Adullam Agape is a non-profit and responsible for managing this effort. Contributions may be tax deductible (ask your tax adviser if unsure).
We'll email you a donation receipt.
Visit AdullamAgape.org to view the terms of service governing giving on HelpMatt.org.